Bathroom: 1939 Vintage Remodel
Used primarily by the owners' 7 year old son, the goal was a bright, cheery space that reflects the home's original style. We framed the son's art to add to the playfulness.
Bathroom: New Home Bathroom Completion
This new home was built with an unfinished basement. The plumbing had been roughed in, so we were simply completing the unfinished space. It was a challenge to create a well-designed, functional and aesthetically pleasing bedroom/bathroom suite, rumpus room, wetbar, and wine cellar within the budget constraints. But it turned out incredibly!
Bathroom: Vintage 1930 - Original Elements, Updated
Featuring wonderful original tile and existing architectural details, the bath was updated by adding period-specific fixtures.
Bathroom - Recreating a Vintage Style
We used white subway and one inch hexagonal tiles with black accents to create a period feel and designed custom cabinetry to maintain the vintage style. A Roman shade was added, made from Perrenials outdoor fabric, to provide mildew-proof protection from the afternoon sun.
Now the tiny guest bath is a bright, airy, clean-feeling room.
A Powder Room Gets a Mini-Facelift
We found a stone remnant and had a new countertop fabricated, added a glass mosaic backsplash, new plumbing & light fixtures and had the walls glazed with bronze metallic paint.
A Master Bath's small changes make a big impact
The owners of this home are tall and could not really see into the wall-mounted mirror very well. The solution was to mirror the entire wall.Success! We also installed a new, beautiful marble slab, new sinks and new plumbing hardware to create a restful sanctuary.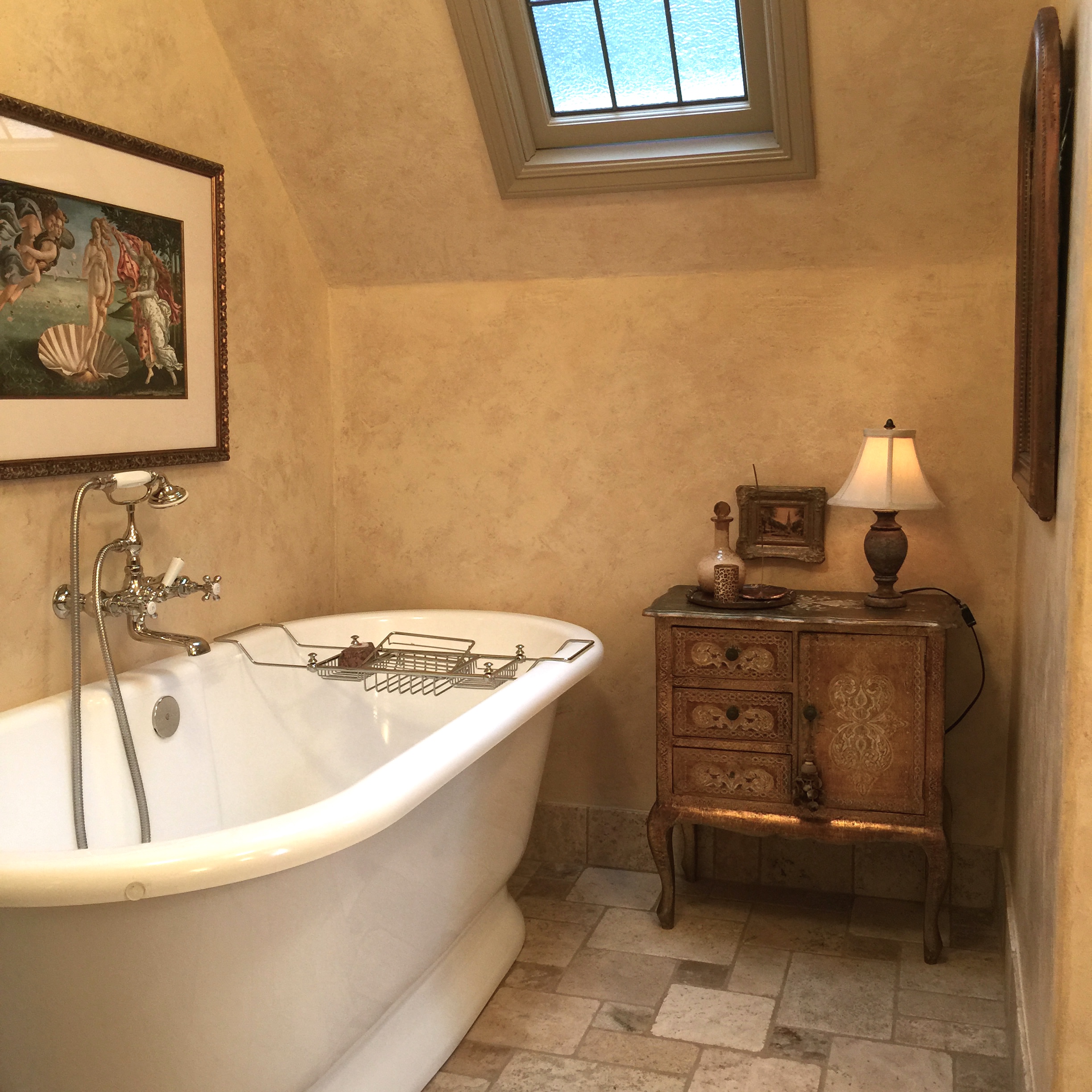 Master Bath Remodel
From what was once a child's room, this master bath has it all.
Bathroom: 1930 Vintage - Remodel
It was important to respect the era of the home and still update the tiny, tiny bathroom. We used ceramic tile, marble and porcelain tile. New, efficient plumbing fixtures were installed.