1939 Colonial Master Sanctuary
A custom Tibetan rug anchors the space. The cozy white linen chaise is perfect for relaxing with a good book and steaming cup of tea. All new furniture, custom rug, new bedding, generously sized nightstands, warm window treatments - and a view of the lake!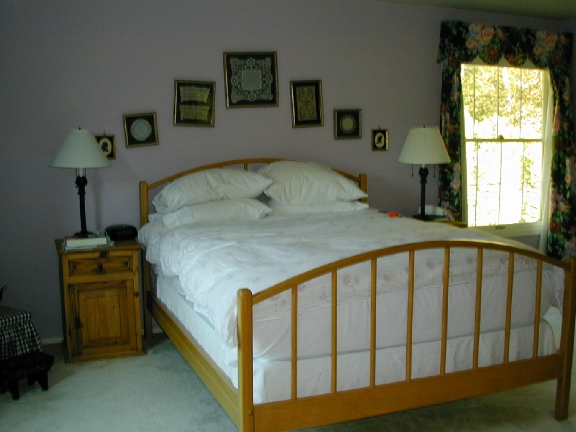 Bedroom Restyle
Client Objectives
Create an elegant master retreat
Update color palette
Our Approach
The master bathroom's color palette was updated to harmonize with the sensuous new look of the bedroom. A complementary wool rug ties the two rooms together seamlessly. The hues for the bedroom were chosen to reflect the traditional Gustavian and French palettes - variations of blue and gold. Custom bed linens, hand-dyed of embroidered linen, rayon, silk and chenille fabrics, are the perfect shades of teal and ochre to complete the theme.
Client Quote
"Jann is a marvelous collaborator!
"I told her I was looking for a 'Country Swedish' feel and she pulled everything together beautifully, down to the bed linens and art on the walls. I've worked with other designers and have never been as happy with the process and the beautiful results. I wish I had more projects. Jann is just wonderful to work with."
-- Julie Engel
Guest Sanctuary
A sleek leather headboard, fine Italian bedding, woven linen drapery panels, and soothing artwork make this a guest room to revitalize.
Normandy Tudor
Tucked up under the peaked roof, this soothing retreat offers space and comfort after a busy day.